In this month's Fit for the Future article, we will explore the culmination of many of the steps discussed in this series—Manufacturing Execution Systems.
MES connects the transactional world of enterprise systems to the real-time world of production. As a conduit of information, the system translates orders, capacity, and raw material data into optimised processes to fulfil demand.
Fit for the Future began with advice for ensuring your system is up to date and secure, along with some simple tactics for uncovering opportunities for improvement, such as implementing a data historian and approaches for analysing OEE, waste, and yield. Once you have taken those measures to achieve progress, the next step is to implement an MES and plug the gap between the top floor and the shopfloor. Here is where the benefits take off. Turn on the afterburners. Go into overdrive.
An MES syncs people, processes, and equipment to transform raw materials into intermediate and finished goods. MES provides the glue to bring together the outcomes of digital transformation.
In the simplest terms, the benefits of an MES are a reduction of costs and an increase in profits for top and bottom-line business value. These gains are realised thanks to improved visibility, traceability, compliance, and implementation of a single set of standards. The consequence of each, and the real-world improvements that drive profitability, are increased capacity, agility, efficiency, and reduced downtime. Improved quality is another tangible outcome, reducing the rate of wastage, scrap, and the need to rework products.
So, how exactly is this achieved?
Manufacturing Execution Systems serve nine core functions:
• Dispatching – Distributing work orders based on transactional data and demand
• Execution – Managing the production process
• Data Management – Enabling the collection and management of data at regular intervals from all connected assets.
• Operational Data Store – Readily tailorable for purpose, MES can serve as a relational database for operational data or integrate with a data historian or Industrial Internet of Things
(IIoT) platform.
• Quality Management – Regulated industries and products can benefit from standardisation and data capture to ensure compliance.
• Process – MES ensures all manufacturing steps are undertaken correctly, with the correct raw materials, temperatures, times, etc.
• Traceability – The ability to track the entire process from raw materials to intermediate and finished goods by lot, batch number, or other signifiers.
• Analytics and Reporting – Dashboard displays, advanced analytical tools and real-time KPIs provide data for accurate decision support.
• Integration – MES can bring together many disparate systems to create something greater than the sum of its parts. Tying together all production levels with enterprise systems down to
site planning, bill of materials and recipe planning.
The power of one percent demonstrates the potency of implementing a Manufacturing Execution System. A seven per cent increase in margin can be achieved by achieving a single percentage point increase in your OEE.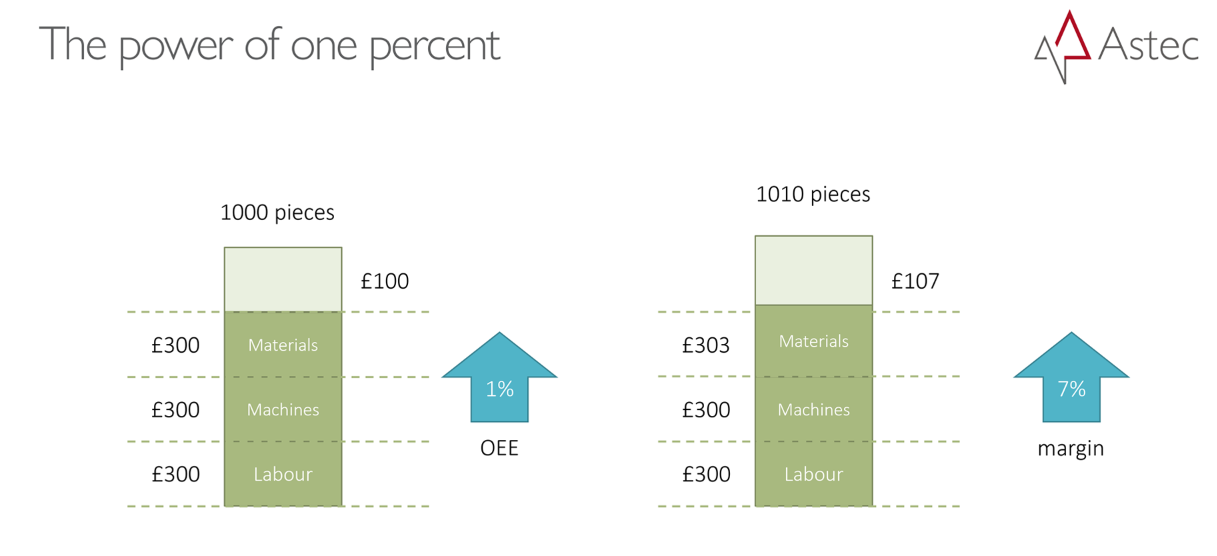 By driving such an improvement with data and the greater visibility offered by MES, the tangible benefits of continual improvement begin to present themselves. And this early quick win is only the first step to a significant return on investment.
Increased visibility of production orders streamlines planning alongside a real-time reconciliation of components and raw materials, enabling accurate ordering and forecasting. This real-time data then provides the ability to view variables to verify quality against specifications backed up by automated in-process checks.
Once you have made strides with OEE, consolidated your visibility, and gained the ability to influence quality significantly, MES continues to offer value-added benefits.
• Changeover speed – Standard operating procedures defined and implemented through MES allow for greater agility when changing from one process to another.
• Decision support – Current information provides context and evidence to affect the here and now.
• KPI tracking – System status dashboards display real-time performance data for an unprecedented level of insight.
MES is a crucial foundation for your operation's future digital transformation. As technologies emerge and mature, creating an operation fit for the future is vital to remain competitive as costs rise and the manufacturing landscape develops.
Astec are the only Premier Solutions Partner for GE in the United Kingdom. With extensive experience and expertise in delivering and exceeding customers' ambitions, Astec has helped many manufacturers achieve greater profitability and efficiency through digital transformation.