Industrial IoT – driving transformation in manufacturing
Industrial IoT and analytics solutions are transforming the manufacturing process up and down the value chain. By creating real-time visibility, you can empower your plant operatives to make data driven decisions. Companies can now prevent unplanned downtime, by monitoring the performance and health of their assets and then use predicative maintenance to service those assets before they fail. Industrial IoT also allows the monitoring of remote assets in the field, as well as enabling the connection of several operating plants to one central hub.
However, contrary to popular belief, IoT is not just for big organisations. In a recent survey conducted by the IoT Institute and PTC, it found that whilst half of all implementers of IoT projects were employed in companies of more than 1,000 staff, a quarter of were from small companies of less than 100 employees.
This of course comes as no surprise to us at Astec Solutions. We've provided solutions to some of the biggest manufacturers in the UK and also helped many smaller ones too.
You can download the full report opposite. (Been There, Done That: How Manufacturers Are Achieving Success with the IIoT )
How Manufacturers Are Achieving Success with the IIoT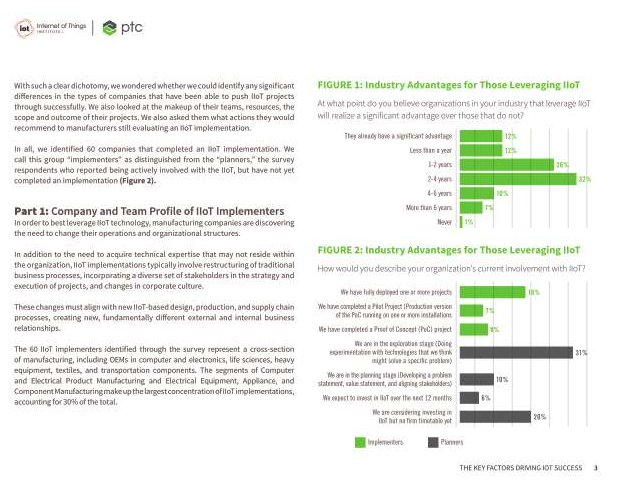 Key Benefits of Implementing an IoT Solution
| | |
| --- | --- |
| ·         Increase flexibility & agility with real-time visibility of data. | ·         Enable machine learning to improve the end-to-end process of your operation. |
| ·         Reduce downtime with real-time health monitoring of assets. | ·         Reduce maintenance costs through predictive maintenance |
| ·         Turn data saturation into actionable insight. | ·         Create Digital Twins to test, optimise & compare processes across lines or plants |
| ·         Use your data to identify process issues. | ·         Monitor and control remote assets |
| ·         Map your optimum process. | ·         Fully automate your production process. |
Ensuring you get ROI from your IOT investment
Whilst all manufacturers face the challenge of incorporating an IoT solution, no two factories are the same. Even within the same company you may have different plants producing the same product, but the plant assets may vary, and so might the staff operating them. Therefore, without a comprehensive strategy you won't achieve your maximum ROI.
Since implementing an IoT solution is a long term investment, your strategy should allow for the maximum flexibility. The products you make today, might not be the products you produce in the future and therefore the resources and staff you employ need to have the capability to adapt to this change. Preparing your manufacturing plant to be flexible and adaptive will allow your company to use new manufacturing methods that are created, managed and continuously improved by a skilled workforce that is IoT savvy.
So, having establish the foundations for what your company needs to transform its operations:
Summarise the gaps between the what you have in place today with what you will need in the future
Talk to us about technology options that are available to fill those gaps
Allows us to help you identify those IIoT solutions which have the lowest risk and greatest reward
Identify the actions needed to implement IoT into your daily operations
Communicate your strategy to all stakeholders
Agree a timeframe and allocate responsibilities.
Why Partner with Astec Solutions for Industrial IoT
Astec Solutions have been in business nearly 20 years and have been driving innovation in the manufacturing industry from the start. From the outset of Industrial IoT we have been at the forefront of designing solutions to meet our customer's needs. We are now one of the leading system integrators in the UK, a status we work hard to keep. We work with strategic partners such as GE Digital, PTC and Microsoft to deliver proven IoT solutions.
When you engage Astec Solutions you benefiting from not only from our expert knowledge of software development and IT systems, but also a dedicated support desk and field service team; something which sets Astec Solutions apart from other integrators.