In the past, the worlds of IT and OT were separate. The gulf has been rapidly closing as the latest technologies benefit production efficiency and offer greater controls for IT teams to implement vital security standards to ever-more connected devices.
A leading force in pulling those worlds together is doing so with eight arms – octoplant. And it is changing how operations build and upgrade their IT/OT infrastructure.
Auvesy-MDT's octoplant is a single solution born from the combination of Versiondog and AutoSave, and what results is software that's much greater than the sum of its parts. Getting its name from the eight distinct functionalities which provide a comprehensive and coherent solution for IT/OT infrastructure, there's much more on offer than simply version control.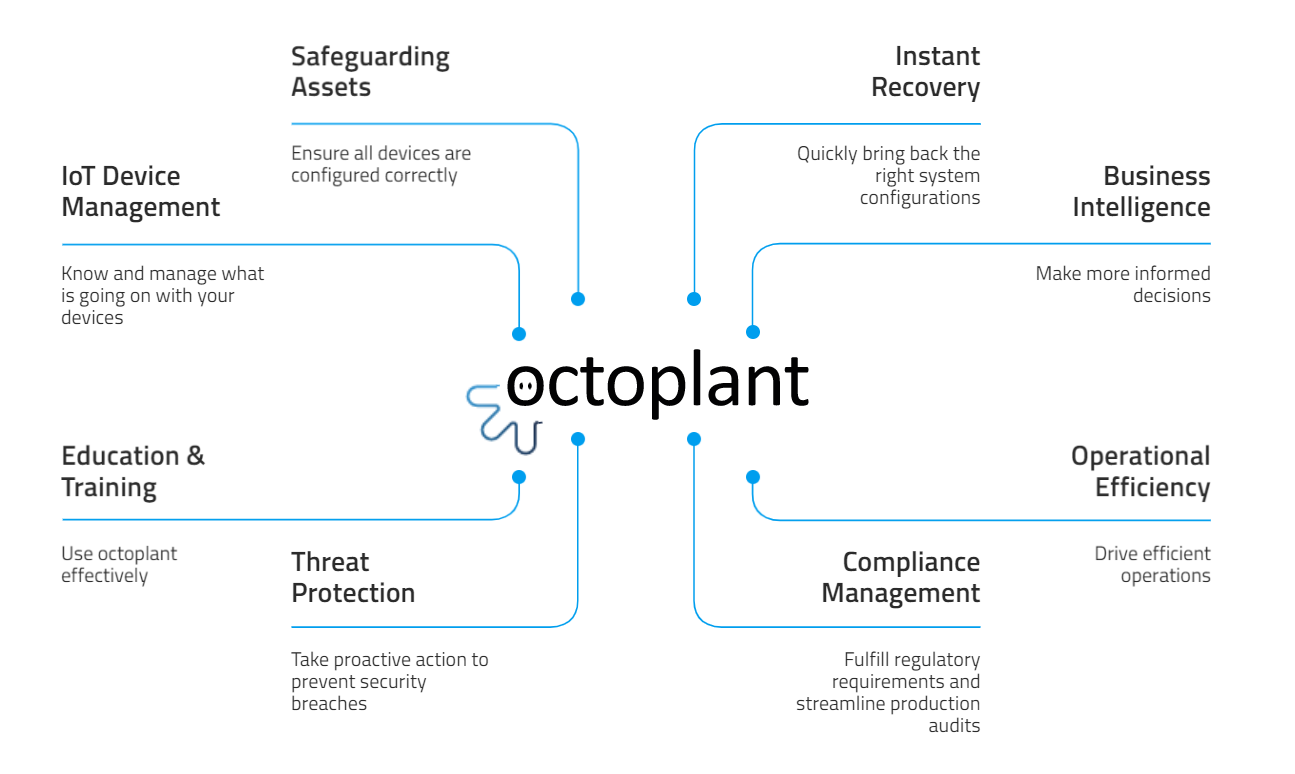 So why should you take notice of this solution? The developers of octoplant, say, 'We enable industrial companies to take a comprehensive view of all automation backup processes involving OT and IT, in order to avoid production downtime and significantly increase manufacturing efficiency and safety.'
The solution meets one of the most pressing concerns when securing IT and OT assets – cybersecurity. Like a bucket of cold water, the vulnerabilities presented by connected operations systems have awoken the IT world to a significant challenge. OT equipment has become more IT aligned by necessity, through standard protocols and ethernet/IP connectivity. The press has continued to fill with stories of backdoors exploited by nefarious actors and the dire consequences to reputations, service, and profitability.
Implementing the proactive measures offered by octoplant, vulnerabilities can be identified and mitigated before any cybersecurity issues occur. Alongside automatically identifying vulnerabilities, octoplant facilitates rapid recovery in case of a security breach, operator error or other disruption with automated backups. And as many companies unfortunately discover, waiting for the unexpected before acting can often mean a costly recovery process without the right tools and protocols.
So, what's on offer in terms of driving greater production efficiency? The octoplant solution collates data from every operational layer together in an easy-to-use data management system. With this connectivity comes the ability to drive better decision-making.
At a fundamental level, regular automated backups provide security and safeguard productivity and efficiency. With access to all of your assets, the system can also confirm that the correct software versions are running and provide ongoing analysis of performance based on any changes. Vulnerabilities or downtime issues are often attributed to outdated versions, so removing this possibility alone is a big step up and offers additional peace of mind for your operation.
At the core of the operational pain solved by octoplant is a need to rapidly recognise the way change is happening. By doing what we've always done, we'll get what we've always got – the maxim is true for productivity, but in the new IT/OT landscape, adopting a forward-thinking mindset is the key to security, efficiency, and profitability.