OEE
Reduce changeover time, improve supply chain predictability, and enhance quality and throughput.

Contact Us
For over a decade, OEE (Overall Equipment Effectiveness) has been the cornerstone of continuous improvement for manufacturing.  It is more critical now than ever to maximise productivity to stay ahead of the competition, and today's challenges demand an aggressive approach to operational improvement.
According to a study on food and beverage manufacturers by Aberdeen Group* the top performing 30% achieved an OEE of 89%, while the bottom-performing 70% achieved an OEE of 74%.  This example demonstrates that for the majority of manufacturers there is a real opportunity to improve equipment effectiveness to gain market share.
How is OEE Calculated?
The OEE metric takes into account three factors: Availability, Performance and Quality, using the formula (A)*(P)*(Q). It is one of the most powerful tools that can be used in industry to increase productivity and optimise performance.
Current and future challenges
Constraints on resources such as raw materials, water, energy and clean water
Environmental issues such as waste plastics and global warming
More efficient and flexible equipment and production systems that meet changing consumer demands on complex, highly variable, or low-volume tasks
IoT giving rise to an increase in collaboration and partner ecosystems so systems can be operated at optimal levels with extended lifetime value of assets
Volatile demand
Fluctuating input prices
Complex, extended supply chains
Companies will need to constantly reevaluate to make the best decisions about capital spend and asset maintenance programs
Rapid changes in manufacturing technologies, including rising labor costs and cheaper automation technology, are resulting in an increase in automation
Remote and preventative maintenance reduces or eliminates downtime
Job roles change as new technologies such as AR, VR and AI are adopted
What Astec can do for your OEE
The Astec team will work closely with you to identify and address the specific challenges that affect your business, providing fully supportable and extendable solutions with maximum security and resilience. Our deep domain knowledge in industrial and process manufacturing translates into a broad toolkit of integrated solutions to reduce equipment bottlenecks, unscheduled downtime, and material or resource shortages. Operators will be empowered to manage and respond effectively to process issues with highly visible, fast and accurate data. You can expect training and flexible support services on your terms to achieve the outcomes you need. As your operations become more efficient and streamlined, you can have greater confidence in your digital strategy and future competitiveness.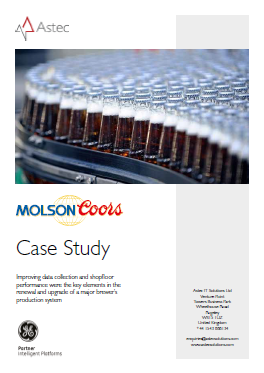 You may also be interested in