We've joined the Novotek Family
What does the change mean for us and our customers?
More power under one brand
We're continuing to provide value, expertise and great service to our customers, but now with an even greater team than ever before!
Share the news
Download the full story of our acquisition, including the details you need to know going forward, in a shareable PDF.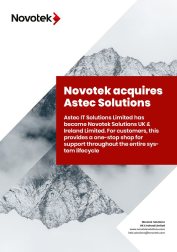 For many years, customers dealt with both Astec and Novotek for purchasing solutions and software. Now, one team can handle this entire process from end to end for even better customer care and confidence.
Since Astec's founding over two decades ago, Novotek UK & Ireland Ltd (formerly Kerrco Automation) has been a key partner within the UK market. This close relationship has only strengthened over time. Lately, it became clear that a joint company would deliver more power under one brand. Our collaboration often appeared as if we were a single team, providing and supporting solutions using industrial software from GE, PTC and more.
The acquisition of Astec only brings additional benefits to the business and its customers, as the Astec team will now be able to draw on the experience and skill of the 15 companies within the Novotek Group.
While Astec has now changed its name to Novotek Solutions UK & Ireland Limited, the business will continue to operate tomorrow as it does today. Outside of evident branding alignment, the first change our customers should see is an increase in the team size! The management team remains in place, as does the wider team and all systems and processes.
"We're really excited to bring this news to you. It has taken a huge effort to make this happen, so I now very much look forward to focussing on serving our customers and helping them drive their process and system improvements as the UK heads into what is being forecast to be even more challenging times."
Novotek Solutions Managing Director Andy Tripp
Continue the conversation
Talk to our team today